Events coming up at 'Hillview Art':
---
Summer dates 2020:
Hillview Art web site details 2020

Sat 15th August – Mon 31st August 10:30 – 4pm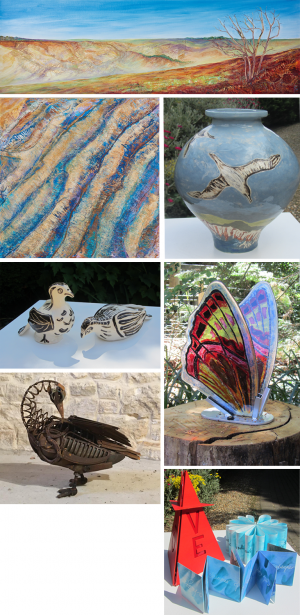 August Open Studio event
Sadly we were informed in May that the Hampshire Open studios would not be able to run in August due to covid 19. However Lesley Self was hoping to maintain a digital presence for any studios who felt that they were able to open safely.
Well the good news is that there are a considerable number that have responded positively and of course Hillview Art is one.  We will need to make some adjustments to our programme as a result of the current situation, which are as follows:
Our dates will be the same but times will be 10.30 – 4.00 pm across the period. Should this prove inconvenient please ring for an alternative time.
Our popular young person's workshops unfortunately will not be able to run this year. There will be work in progress to view alongside all the new art works and of course discussion around art can take place. Jewellery and wood turning will not feature but you will be able to view: artist's books, ceramics, garden sculpture, glass, paintings and print. There will three separate gallery spaces and the garden will feature sculpture in a natural setting – with plenty of distanced seating. Disposable gloves will be to available for the handling of pieces.
We still aim to offer refreshments when we have help here to be able to serve you at a distance; with donations going to The Wildlife Trust at Blashford Lakes. They are so very appreciative of our efforts.
A warm and friendly welcome awaits you.
2020 EXHIBITIONS
Glass in the making – exploring the depths and layers in a painterly manner.
New Ventures
I have been invited to take part (with other artists) in 'The Wider Circle' – a journey with Dante. This will introduce James Sale's Divine Comedies and The English Cantos, startling yet accessible poems about the descent into hell and back. My challenge is to respond to James's evocative poems through the medium of fused glass. Considerable research and experimentation is underway.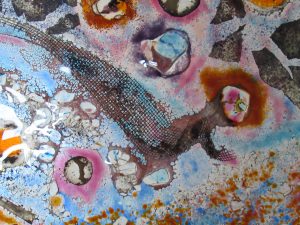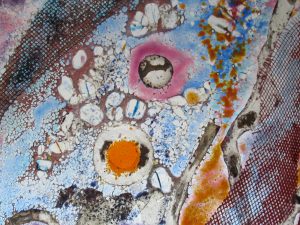 Due to the current situation exhibitions have been affected – the Wider Circle at the Gallery Upstairs will now be a virtual exhibition and 'Continuing the Journey' at the Russell Cotes will not take place until 2021. At the moment the situation is unclear with the other venues.
To return to the Wider Circle, I have been working hard to produce glass for this exhibition. Links to the virtual exhibition are as follows:
https://thewidercircle.webs.com
Take 5 was formed in 2019 and is going from strength to strength with 5 contemporary artists who strongly believe that Art is Essential. We invite the viewer to immerse themselves in the world of Art and challenge their senses. www.take5artists.com
Across the next year my work can be viewed in the following exhibitions:
10th – 23rd June 2020, 'The Wider Circle', at the Gallery Upstairs, Upton Country Park, Poole – ONLINE ONLY
31st July – 3rd September 2020, 'Take 5' at the Mulberry Room, Shelley Park Theatre Trust, Boscombe – POSTPONED TO 2021
12th September – 17th October 2020, 'Take 5' at the Red House Museum and Art Gallery, Christchurch, Dorset – CONFIRMED AND TAKING PLACE
16th – 29th September 2020, BAC's 100th Annual Exhibition at the Gallery Upstairs, Upton Country Park, Poole – POSTPONED TO 2021
3rd – 28th November 2020, BAC's 100th Birthday Celebration at the Mulberry Room, Shelley Theatre Trust,  Boscombe – CANCELLED
---
2021
'Continuing the Journey', with Bournemouth Arts Club [ in celebration of 100 years] at the Russell Cotes Cafe Art Gallery – dates TBC
We hope to see you at Hillview Art for our Festive Weekend across the 14th and 15th November 2020. Good company, affordable gifts and hot refreshments!