Events coming up at 'Hillview Art':
---
Due to the unfortunate cancellation of our festive weekend caused by lockdown, we have decided to open across the weekend of the 5th and 6th December, 10.30 – 4.00 pm [subject to the Govt. giving us the go ahead].
In addition to the wide range of contemporary art work on display, we shall be holding a garage sale with proceeds going to the Hampshire Wildlife Trust.
A warm and friendly welcome awaits you.
2020 EXHIBITIONS
Glass in the making – exploring the depths and layers in a painterly manner.
New Ventures
I have been invited to take part (with other artists) in 'The Wider Circle' – a journey with Dante. This will introduce James Sale's Divine Comedies and The English Cantos, startling yet accessible poems about the descent into hell and back. My challenge is to respond to James's evocative poems through the medium of fused glass. Considerable research and experimentation is underway.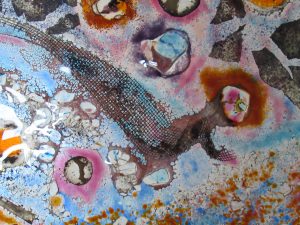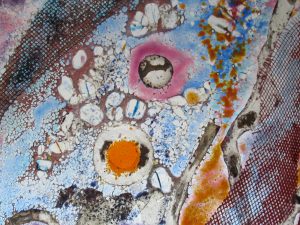 Due to the current situation exhibitions have been affected – the Wider Circle at the Gallery Upstairs will now be a virtual exhibition and 'Continuing the Journey' at the Russell Cotes will not take place until 2021. At the moment the situation is unclear with the other venues.
To return to the Wider Circle, I have been working hard to produce glass for this exhibition. Links to the virtual exhibition are as follows:
https://thewidercircle.webs.com
Take 5 was formed in 2019 and is going from strength to strength with 5 contemporary artists who strongly believe that Art is Essential. We invite the viewer to immerse themselves in the world of Art and challenge their senses. www.take5artists.com
Across the next year my work can be viewed in the following exhibitions:
31st July – 3rd September 2020, 'Take 5' at the Mulberry Room, Shelley Park Theatre Trust, Boscombe – POSTPONED TO 2021
16th – 29th September 2020, BAC's 100th Annual Exhibition at the Gallery Upstairs, Upton Country Park, Poole – POSTPONED TO 2021
3rd – 28th November 2020, BAC's 100th Birthday Celebration at the Mulberry Room, Shelley Theatre Trust,  Boscombe – CANCELLED
---
2021
'Continuing the Journey', with Bournemouth Arts Club [ in celebration of 100 years] at the Russell Cotes Cafe Art Gallery – dates TBC
We hope to see you at Hillview Art on 5th & 6th December, 2020 for affordable gifts and good company.