Open Studio August 2023:
This proved to be a delightful seventeen day period of time. While the weather was occasionally inclement it did not deter the visitors, neither did it prevent our friendly spinners from demonstrating andinteracting with everyone on a daily basis. 
The garage sale proceeds and the refreshment donations together raised the grand total of £1150 for our Wildlife charities, to our delight this matched the sum raised the previous year.    
Once again £650 went to Blashford Lakes, the Wildlife Trust and £500 went to Wildlife Rescue, The British Wildlife Hospital, Moyles Court. 
Plans are already afoot for next year!  Both the Wellow spinners and Amy Lancaster will be joining us again. A new fund raising initiative from Amy we intend to 'grow', her verbena plants were greatly appreciated and the range will be extended. The quiet drawing area will also feature.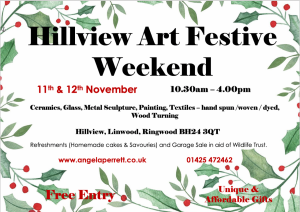 Festive Weekend
Looking towards our festive weekend in November [Saturday 11th and Sunday 12th] once again we shall be fund raising and the refreshments will include hot savouries to combat the likely chilly weather! Amy will be placing metal sculpture around the courtyard area and the spinners will have their beautiful textiles on display in the large tent area.  Geoff's wood will as usual feature alongside the paintings, glass and ceramics.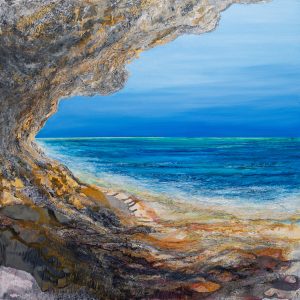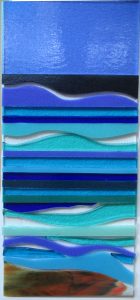 New paintings based on Zanzibar have recently been framed and I have just started to work on glass panels exploring the colour bands viewed when looking out to sea.
Another current area of exploration is the wild meadow turf, planted in memory of Arthur and now a mass of flowers, alive with bees; constant movement is apparent.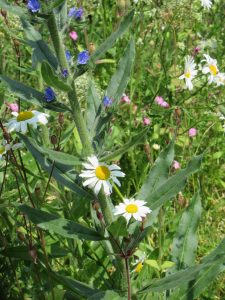 I have undertaken drawing studies and did paint outside for a period but it was just too hot. So I am continuing this journey in the studio. In addition I am aiming to take some of the drawings around a number of ceramic pieces.
A future date for your diary-
Our Festive weekend dates are:
Saturday 11th and Sunday 12th November 2023, 10.30 – 4.00 pm.
Some images from Hillview Art Summer Open Studio event 2023, which ran from 12th-28th August. All proceeds from our garage sale going to Wild Life charities. 
Finally, a blogpost 'In loving memory of Arthur', which was created by a warden at Blackford Lakes is still viewable here. It gives visitors a lovely insight into what you might expect at Hillview Art, especially during Hampshire Open Studios event.