Events coming up at 'Hillview Art':
---
Hillview Art 2019: Experience Art in all its rich and varied forms
Hillview Art's Open Studio opening period this summer:
Sat 10th August – Mon 26th August 2019
10.30 – 5pm Bank Holiday Mon 10.30 – 4.00 pm
To be followed by our Festive Weekend:
Sat 9th and Sun 10th November:
Download the flyer here: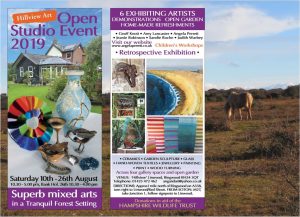 This summer the garden will show metal sculptures and glass works, with plenty of quiet places to sit and dwell a pause. While the studio spaces will exhibit artist's books, ceramics, glass, hand – woven textiles, jewellery, paintings and wood turning. Geoff Knott will once again be demonstrating his wood turning expertise during the afternoon. There will be opportunities to view many other demonstrations across the period.
Click here to download the full programme of talks and demonstrations
---
This year in addition to my new work, I shall be showing a retrospective exhibition.
My degree course: 1976 – 1980, was followed by a teaching career, which I left in 2001 to focus on my own work. I will be exhibiting work from across the period -a painting that shows a studio view from the degree period, with media explorations across the 4 years. To be followed by subsequent artistic journeys across various phases to the current date.
Retrospective Talks
During open studio there will be opportunities to engage with Art during the Retrospective talks. These talks will take place at the following times:
Sunday 11th August, Thursday 15th, Sunday 18th, and Wednesday 21st: all between 3 and 4.00 pm.
Plus Saturday 24th August: 11-12.00pm.  
Angela's Degree course in 1976 – 80, was followed by 21 years of Art teaching. There will be work to view from the early years, across the period and right up to date.
Demonstrations 2-4.00 pm
Wood Turning with Geoff will take place on:
Saturday 10th August, Sunday 11th, Wednesday 14th, Friday 16th, Monday 19th, Thursday 22nd and Sunday 25th.
In addition Jean will be offering her beading demonstrations on:
Wednesday 14th August, Sunday 18th and Tuesday 20th.
---
Of course our homemade refreshments will revitalise you during your visit!
Should you wish to visit the studio at times outside the above mentioned, please do make contact. Visitors are warmly welcomed.
Our ever popular young people's workshops will run during the weekday mornings from 11 – 12.30 pm. We are thrilled that Sandie Roche has agreed to take a weaving workshop, in addition to the pottery, glass, printmaking and jewellery workshops that will be on offer. A full programme is available here: